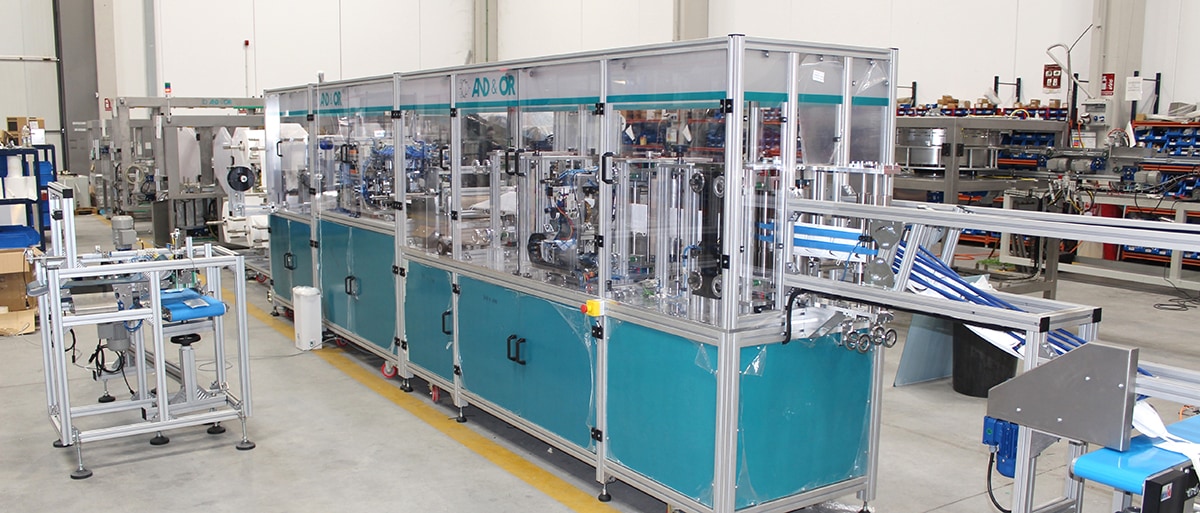 A machine capable to produce up to 80.000 masks a day
Machine to manufacture PPE masks, FFP2/FFP3 types

A face masks production equipment capable to produce FFP2/FFP3-type masks attending the standard product following EN 149:2001+A1:2009 regulation, and the harmonized regulation giving presumption compliance of 2016/425.
The machinery designed by And&Or for the FFP2/FFP3 masks production line, makes the manufacturing process totally automated, with a high production capacity.
FP2 and FFP3 mask production. A modular equipment, expandable depending on required production speed.
In the same solutions line for the Health industry, the Spanish group AND & OR offers to the market a machine for surgical masks, up to 4 protection layers and high production capacity.
DO YOU NEED MORE INFORMATION?
EPI face masks (FP2 and FFP3 type) manufacturing machinery characteristics:
Machine protection and fairing following the European regulation

Ultrasounds systems made in Europe

Ergonomic and easy access design, according to international safety and hygiene standards allowing a fast and easy cleaning of the machine and meeting the European safety regulations.

Machine bench made up of a steel main body, with height adjustable legs +- 50mm.

Transparent PET protection with safety sensor to stop the machine in case of opening, covering all the moving elements.

Electric panel built into the machine bench, in accordance with valid directives CE, electromagnetic compatibility and low tension.

All the pieces in contact with the product are made of stainless steel and/or approved plastics.

Technical Service guaranteed for the equipment set up and after sale maintenance.
All the motors controlled by the variable frequency drive are installed in the electric panel.

Control by PLC, including the machine complete software and operation parameters, to regulate and synchronize motors and to adjust the working parameters.

Terminal operator with 7" color touch screen, for the control and machine operation.


Electric and pneumatic components with international first level brands and capacity of worldwide spare parts distribution.

Robust structure and frame made in stainless steel providing durability to the equipment and avoiding machine breakdowns.

High quality components avoiding fast breakdowns.

Possibility to integrate a vision system to control the product quality and reject it automatically if is defective.

Possibility to integrate an automatic film or carton-case packing equipment at the machine output.
AND & OR offers an advice service for required materials selection depending on mask type to manufacture, as well as kits with raw material necessary for the production startup: Spunbond in white, blue or other colors on demand. Meltblown masks BFE99 and BFE95 and all other elements required to complete the production process.
FFP2/FFP3 type masks, with up to 6 protection layers and with ultrasounds welding systems for the assembly of the mask and transverse section for nasal rigid strip insertion. The rubbers assembly is automated, as they are transversely placed for a grip over the head, meeting the requirement UNE-EN 146-83:2019+AC.


Production capacity of 55 units per minute.

Production over 550.000 face masks weekly.

Meeting the European safety regulations at work and the standards ones: CE certification.

Modular and expandable solution depending on the required production speed and the desired degree of automation.
PRODUCT
TYPE
WHAT IS IT
WHO IS PROTECTING
RULES
REGULATIONS
CLASSIFICATION
EQUIVALENT
MATERIALS BY REGULATION
USED
REPRESENTATION
MASK
AUTO FILTERING**
PPE*
ME FROM OTHERS
Regulation (UE) 2016/425

OBTAINING CE CERTIFICATION THROUGH A NOTIFIED BODY

EN 149:2001+A1:2009 *

AND HARMONIZED REGULATION GIVING PRESUMPTION OF 2016/425 COMPLIANCE

TYPE: FFP1
TYPE: FFP2
TYPE: FFP3
CHINA: GB 2626;
KN90; KN95; KN100; KP90; KP95; KP100
USA: NIOSH Title 42 CFR Part 84
N95; N99; N100; P95; P99; P100
MATERIALS MEETING THE REGULATION TESTS.
THE GOVERNMENT PROVIDES THE LIST OF COMPANIES HAVING MATERIALS MEETING THESE TESTS
Not cloth:
Spunbond + spunlace
Meltblown
* SPECIFICALLY RESPIRATORY PROTECTION PPE

**EXHALATION VALVES ARE ALLOWED, AND MUST WORK CORRECTLY IN EVERY WAY, THE EXHALATION VALVES IN NOT A FILTER
PPE = Personal Protective Equipment
MD = Medical Devices
Automation level: Fully automatic

Mask type: PPE (Personal protective equipment)


Certifications: CE Marking
Production: Up to 55 masks/min.
Extra equipment for a largest automation
Quality control by artificial vision